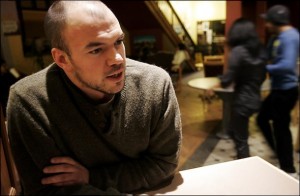 Tim DeChristopher, real auction hero
By Travis Custer,
WilderPress!
Issue #1
Ok, so I know the news is a little old, but we wouldn't be able to release the first issue without paying our dues to Tim DeChristopher and his successful battle against the Bush Administration, and their final attempts at ecological destruction in the American West. For those not quite sure what I'm talking about, I am speaking about the December auction of around 150,000 acres of Utah Wilderness that was thrown to the block for oil and gas bidders to seize for development and exploration. Many described the selling of some of Utah's most pristine areas, including land around Arches National Park, Labyrinth Canyon, Canyonlands National Park, Dinosaur Monument, and a handful of other pristine areas in southeastern Utah, as, "Bush's last gift to the oil and gas industry". Like many of us who treasure these areas for their natural beauty, spiritual power, and as simply a place to escape, DeChristopher was having a difficult time choking down the reality that oil wells may soon be popping up in the sacred red rock country. Beyond the destruction of the natural beauty the leases, if developed, threaten the fragile ecosystems of the Colorado Plateau as well.
According to
Democracy Now!
and other sources, the BLM had failed to even analyze the environmental impact on water and air of around 2,300 wells that have popped up since 2004, and had not come any closer to assessing the impact of the estimated 6,300 wells that were written into the current land auction plan. One of the greatest threats comes in developing land for oil, gas, and uranium exploration around the banks of the once mighty, now tamed, Colorado River. The Colorado River which, according to High Country News, "powers homes for 3 million people, nourishes 15 percent of the nation's crops and provides drinking water to one in 12 Americans," is now threatened by, "a rush to develop".
In response to this unjustified destruction of wild lands DeChristopher left his University of Utah class after finishing a final exam and ran down to the BLM auction with the intent of protesting the sales. However, upon arriving DeChristopher realized that he had to do more. In an interview with the Salt Lake Tribune he stated, "I decided I could be much more effective by an act of civil disobedience…There comes a time to take a stand. What the environmental movement has been doing for the past 20 years hasn't worked…its time for a conflict. There's a lot at stake."
So instead of walking the protest lines, as he had done so many times before, DeChristopher decided to take more direct action and really throw a wrench into the works. He posed as a self-represented bidder and registered with the BLM to enter to the auction. After making it inside he mustered up the courage and began to bid on parcels of land. DeChristopher began to buy up numerous parcels, and the ones he didn't win he drove the price up on; some leases were raised as much as $500,000 dollars before being purchased by legitimate oil and gas buyers. Before federal agents and auction officials caught on to what was happening DeChristopher had purchased 22,000 acres of public land including areas in Arches National Park and Dinosaur National Monument.
DeChristopher was hauled off by federal agents and questioned about his intent and actions. According to an interview with DeChristopher, by Amy Goodman from
Democracy Now!
, while in custody he explained to the feds, "I was very clear about what I was doing and why I was doing it. I told them all my motivations and why the environmental movement, as it's been, and myself included, hasn't been effective and why I felt it was necessary to take more drastic actions." In a surprise turn of events Patrick Shea, former director of the BLM, offered to represent DeChristopher's legal team, and to do so free of charge. Currently no charges have been filed against DeChristopher and a flood of donations by supportive citizens dedicated to protecting these wild lands has provided enough money (around $45,000) to allow DeChristopher to make the first payment on the land he purchased. In addition, on January 17th, Federal Judge Ricardo M. Urbina sided with conservation groups and their request to block the lease sales citing that, "development of energy resources…is far outweighed by the public interest in avoiding irreparable damage to public lands and the environment." This will hopefully allow the new Administration to review the leases and their consequences.
This is a huge victory for conservation groups, and eco-defenders of all walks. I know many, myself included, that have spent countless hours walking the canyons, running the rivers, and losing ourselves in the beauty of the red rock country. The Utah wilderness is truly a magical and sacred place. For us wild Four Corner folk this is simply a place we cannot afford to lose, especially to the wanton destruction of irresponsible industrial development. Thankfully people like DeChristopher weren't willing to let these areas slip without a fight. In my opinion, this is the spirit of resistance we need to bring into 2009. Let us make a new years resolution to foster in ourselves a revived sense of resistance to the atrocities that face our world, both social and ecological. The hour is upon us, and there is no time to wait—the natural world is hurting and we must find it in ourselves to relieve the pain.